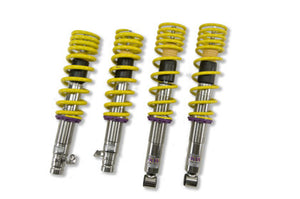 KW 35250004 V3 Coilover Kit 97-01 Acura Integra with Lower Eye Mounts
Fitment:
1997-2001 Acura Integra with lower eye mounts
Front and rear kit
Adjustable height: 0.8"-2.0"
Cutting-edge motorsports technology -or more performance on the road. Like every suspension product developed by KW automotive and manufactured in Germany, the KW Variant 3 Coilover suspension kit also provides a significant improvement on the road.

The KW Variant 3 INOX-LINE coilover kit is the ideal tool for performance-oriented drivers and experienced tuning enthusiasts who place a strong emphasis on the overall performance of their suspension. The Variant 3 features patented TVR-A and TVC-A technology that provides separately adjustable rebound and compression damping. The extensive adjustment range of the independently configurable rebound and compression make it easy to directly influence the steering behavior, directional stability, grip and handling characteristics for confident and repeatable results at the limit of driving dynamics.
This item ships free within the United States