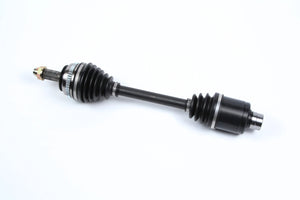 Insane Shafts Axle (LH) 94-01 Integra 88-00 Civic/CRX/Del Sol, B-Series
NOTE: This is the left side axle only. 
Insane Shafts axles are made out of chromoly steel and put through our proprietary annealing and heat treatment that is capable of handling power demands of up to 500 wheel horsepower.  All Insane Shafts include removable ABS rings (if applicable) and new spindle nuts. 
Applications:
90-2001 INTEGRA (DA,DC)
88-2000 CIVIC/CRX/DEL SOL (EF, EG, EK) WITH B-SERIES SWAP
Engine:
B16/B18/B20
Transmission:
B-SERIES HYDRAULIC
Intermediate Shaft:
B-SERIES HYDRAULIC