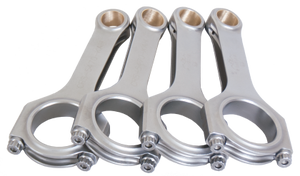 CRS6023AXD F20C Eagle Honda S2000 Extreme Duty Connecting Rods ARP CA625+
Fitment:
2000-2003 Honda S2000 AP1, F20C
Additional specifications:

| | |
| --- | --- |
| Rod Length | 6.023" | 153mm |
| Pin Size | 0.905" | 23mm |
| Rod Bolt | 3/8" ARP CA625+ |
| Beam Type  | H-Beam |
| Rod Material | Forged Steel |
| Rod Size | Standard Length |
Eagle's commitment to quality and service has resulted in customer loyalty and satisfaction. This, in turn, has fueled rapid growth over the years. Eagle added crankshafts to our lineup a few years later as well as expanding our offerings in connecting rods. Continuous design improvements and improvements in materials and manufacturing techniques have resulted in Eagle being the largest and most respected aftermarket connecting rod and crank manufacturer in the industry. We never stop researching ways to make our products lighter, stronger, more efficient to manufacture, and more diverse. When you stop moving forward, you get passed by the competition.