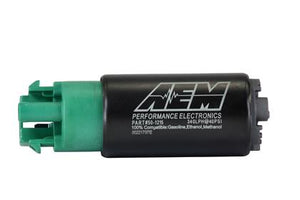 50-1215 AEM 340LPH 65mm Fuel Pump Kit w/ Mounting Hooks
Ethanol compatible.
AEM's High Flow In-Tank Fuel Pump is designed for high performance naturally aspirated and forced induction EFI vehicles. It delivers reliable performance and high volumes of fuel flow for roughly half the cost of comparable performance fuel pumps.
The AEM High Flow In-Tank Fuel Pump flows 320 lph (84 gph) at 43 PSI and is capable of supporting over 1,000 HP at 43 PSI.
AEM High Flow In-Tank Fuel Pump Features:

Designed for high output naturally aspirated and forced induction EFI vehicles

In-Tank design

Tested to flow 320 lph @ 43 PSI

39mm diameter fits most applications

Offset inlet design eases installation

Each pump individually tested

For gasoline vehicles

Kit includes fuel pump, rubber sleeve and end caps, pre filter, hose, clamps and flying lead
TECHNICAL SPECS:

Weight: 10.1oz (285grams)

Outside Diameter: 39mm OD

External Materials: Black plated steel with laser etching

Inlet Fitting: 7.7mm ID, 11.0mm OD

Outlet Fitting: 8 mm hose clamp

PRV Activation: 90 PSI

Impeller Design: Single Scroll Hard Anodized Aluminum Turbine
VOLTAGE SPECS:

Connector Terminal: 6 mm Spade (pos/neg)

Min Voltage Input: 6 volts

Max Voltage Input: 18 volts

Current Draw (40 psi): 12 amps (13.5v)

Current Draw (80 psi): 15 amps (13.5v)