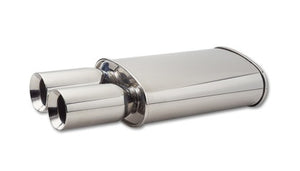 1047 Vibrant StreetPower Turbo Oval Muff w/ Dual 3.5in Round Tips Straight Cut Bev Edge 3in inlet I.D.

Vibrant Performance has one of the most complete offerings of mufflers & resonators for all segments of the industry. Our "true straight through" internals feature a stainless steel perforated tube that is wrapped in our premium quality, multi-layer sound suppression materials that will produce a low, deep tone while allowing for unrestricted flow and maximum horsepower. Vibrant Performance mufflers & resonators are the perfect fit and suitable for all naturally aspirated and forced induction applications.
Body Length:
15.000 in.
Inlet Inside Diameter:
3.000 in.
Inlet Outside Diameter:
3.000 in.
Main Piping Diameter:
3.500 in.
Material:
304 Stainless Steel
Outlet Outside Diameter:
3.500 in.
Outlet Type:
Dual; Straight Cut; Double Wall; Beveled Edge
Overall Length:
23.000 in.
Body Height x Width (in):
5x9
Center to Center (in):
3.75
Inlet/Outlet Orientation:
Center-Center
Tip Style:
Straight Cut, Double Wall, Beveled Edge
California Proposition 65:
Vibrant Performance (a div. of Vibrant Power Inc.) does not manufacture, sell, or distribute any products that would require a warning under Prop 65